10 Cool Ways to Use Facebook Live Like A Boss
Sure, Facebook Live is the latest – and greatest? – in live video streaming. But what are some ways to use Facebook Live to grow an audience or customer base for your business or brand? We've got some inspiration for you in that area!
First, here's some background: Facebook Live is a live video streaming service that lets anyone broadcast live videos from their mobile device straight to their Facebook News Feed. Videos can last up to 90 minutes, and appear in News Feed and on the broadcaster's Page or profile while they are live. Facebook also recently updated the News Feed so its live videos are more likely to appear higher in News Feed when those videos are actually live, compared to after they are no longer live. Your fans can also get notified whenever you start streaming live. They simple tap the "Live Subscribe" button on the top of a live video to get notified when you or your Page goes live again.
And with 1.71 billion active Facebook users – a number that is still growing – this is a tool that could be integral to your company's marketing efforts.
Read: Why Your Business Should Use Facebook Live [Infographic]
---
So, now you know what Facebook Live is, but how can you use it in creative ways for your business or brand? Here's a gallery of ideas to provide you with inspiration.
1. Answer Q&As or FAQs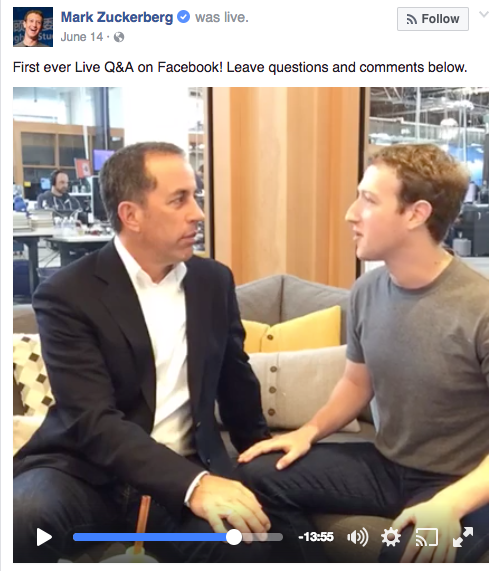 What could be a better place to start than Facebook's own Mark Zuckerberg?Zuckerberg's Q&A's on live streams are good examples of how the platform can be used to answer customer questions and deliver a personal touch.
2. Give an inside look at your business 
By giving viewers an inside look at your business, you can show customers what to expect. A retail business for instance, can give customers a taste of the in-store ambience and superior experience that awaits them via live streaming from the store.
Hotels can provide potential guests with a live stream of the view they can expect to see from different rooms. Potential guests then can decide if the hotel will fit their expectations.
3. Promote an Upcoming Event
GE, an official sponsor of the 2016 Olympics, was behind the technology and lights at the entire event. Ahead of the Olympics, GE used Facebook Live to show how the company was powering the Games. But instead of turning to humans to show off the tech, GE used drones.
HEY! If you're reading this, you're probably interested in how to use Facebook to promote your business or brand. Check out our post geared especially toward small businesses: Facebook Advertising Tricks That Really Pay Off
4. Broadcast Live Events
Are you attending a conference, concert, or some other place others would love to get a glimpse of? Share it live! Take a look at this live video created live as the team at Grazia, UK, and Italian women's magazine with international editions. Experience behind-the-scenes footage as they walked through all the stages of their GraziaxFB Brexit Debate.
5. Promote Particular Products or Services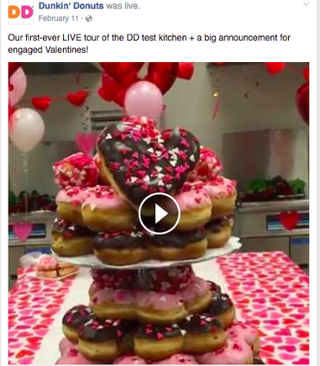 Benefit Cosmetics runs an immensely popular weekly live stream, where the host and an invitedguest share beauty tips and advice. The sessions are very interactive; viewers ask questions to which the host and guest respond. For an added interactive spark, around four minutes in, the host polls the audience to determine which product they'd like to see them use to complete the makeup look they are creating!
6. Show Off Some Skills
In one of its live streams on Facebook, Dunkin' Donuts gave its fans a tour of its test kitchen and showcased the construction of a donut wedding cake.  The live stream attracted over 37,000 views.
7. Crowdsourcing
The live streaming feature can be used for getting feedback on a new product line. A business can interact with its followers and get their opinion or even crowdsource ideas for product improvements.
8. Conduct Interviews
Your viewers will likely appreciate an up-clos-and-personal chat with key leaders within your company or in your field. Alternately, demonstrate your company's transparency by conducting an interview with employees. Not a bad way to recruit, either!
9. Run Live Online Courses for Value-Added Service
Your business undoubtedly can create some added value to your product or service by creating "how-to" content delivered live and interactively with Facebook Live. Answer the real questions your viewers are asking. Generate great customer service relationships!
10. Give Viewers a Laugh & Have Some Fun!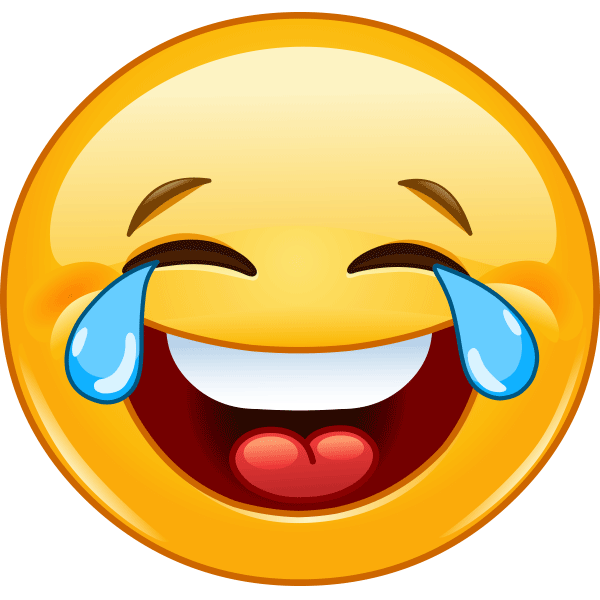 Though it's hard to decide into which category this Facebook Live video fits, we think you'll agree that BuzzFeed certainly rocked it with this live dance competition! But this wasn't just any old dance battle: "Dance Craze Battle: Live" was an interactive competition that required the audience to vote on performances and submit suggestions for dance moves.
To get started with Facebook Live, check out the how-to's directly from Facebook. Share your creative ideas for using Facebook Live and add to our Inspirational Gallery!
---
Ready to start using Facebook to its fullest potential and grow your customer base?