Snapchat, Instagram and Pinterest, Oh My! How Colleges and Universities Can Best Engage With Their Students on Every Major Social Media Platform
The Challenge
Now that your recruiting and admissions efforts have paid off, it's prime time to focus on higher education social media marketing to increase student engagement on campus and create lifelong brand advocates. Effectively utilizing social media marketing for colleges is key to engaging students throughout the school year.
The challenge with running social media marketing campaigns for higher education starts with figuring out how both social media and mobile behavior fit into students lives and university structure. Once you've established which platforms can best help you achieve your online goals, try putting these higher education social media marketing campaign ideas to use.
Strategies for Implementing Social Media Marketing for Colleges
Make "Viral Listicles" Do the Heavy Social Media Lifting
You've seen these all over the place… Posts and articles with titles like "53 Reasons Nashville is the Best Town In The USA" or "21 Reasons to Love Ohio State." It's a proven social media strategy and bloggers, businesses, and organizations alike use them consistently with huge success. They're inherently viral when done correctly because they resonate so well with the audience they're designed for, and readers are likely to share with friends and family who will "understand" – leaving the blog flooded with new site visitors.
Now is the perfect time for universities to tie viral listicles into their social media marketing campaigns and give students, alumni, and supporters a value-packed post to share. Try something like "33 Reasons to Become a Nurse" for your nursing education program or "12 Things You Didn't Know About [your school name]" to raise awareness and help people make connections with your campus. Once you create your content, it's all about getting it in front of the right people. Share it on Facebook, create a pin for Pinterest, tweet links, include it in your campus newsletter, encourage faculty and students to share it, and if you're really looking to ignite your web traffic, run a Facebook advertising campaign with targeting details specific to your readers to reach people outside your owned networks. Plus, people just can't resist finding out that number one reason.
Snap Your Way to Student Engagement
Ready for this one? People under the age of 25 use Snapchat for an average of 40 minutes every single day! And you guessed it – that number's going up. You may have the impression that the app is for the young crowd and mostly used to share things you don't want your grandma seeing in her Facebook newsfeed, and that may be true. However, Snapchat is scaling upwards in age and with widespread acceptance among college crowds, it's quickly finding its place in the higher education marketer's toolbox.
An easy way to incorporate Snapchat into the social media strategy for your university or college is to tap into the endless pool of user-generated content available at your fingertips. Here's an idea: every Friday you could have a different student run a "Snapchat takeover" from your school's Snapchat account and create a story around their day on campus. Dorm life, dining halls, going to classes, their favorite spots to relax on campus – this "story" they create lives on your Snapchat account for 24 hours and gives other students, prospective students, and alumni a behind the scenes look into what it's really like to be a part of the school. The great thing about Snapchat is that is commands the user's attenti
on with a full screen video, and with a long "snap story", users can tap through and watch endless clips and pictures from your account, where they may have only spent a few seconds watching the same video in it's full format posted from your Facebook page.
Another example of an amazing higher education Snapchat campaign is from the University of Wisconsin in Green Bay, where students applying for their Fall semester were asked on their applications if they'd like to receive their acceptance letter viaSnapchat. The school still mailed her acceptance letter, but what a cool touchpoint to have as a new student about to start your first semester of college! [Follow @UWgreenbay on Snapchat for ideas!]
Schools can also create "geofilters", which are Snapchat overlays that users can add to their pictures or videos if they're within a set radius. So for example, students creating content on Snapchat anywhere within a mile of the center of campus would be given the option to use your school logo, tagline, event name – whatever the school's team designs – over their picture prior to sharing it. This can help students (who are already snapping pictures on campus anyway…) feel more engaged with the university and instill a sense of pride and promotion, all while helping you advertise events or your school's reputation.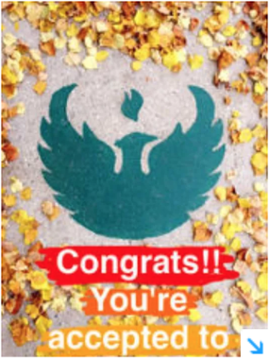 Keep Instagram Human With Student-Generated Content
For a bunch of different reasons, Instagram should be weaved into your marketing mix while planning your higher education social media campaigns. The app isn't just about sharing artsy pictures anymore – live video, Instagram stories, and normal picture/video upload features offer marketers different tools to accomplish different goals. Instagram has become an incredibly well curated database of places, events, and organizations neatly organized by hashtags, and you better believe prospective students are doing their research. Students and alumni are, too. Give them what they want! Sure, you can use Instagram to promote events and share important announcements, but people want to know what it's really like to attend your school.
If you're not already, start sharing student-generated content from your school's Instagram account as part of your back to school marketing campaigns. This is easier than you may think… Most students will be thrilled to have their pictures shared from the university account. Either comment on the picture asking for permission, or slide into their Direct Messages and ask them "in private".
West Virginia University does this super well. The aesthetic of their profile gives you a great feel for the vibe on campus and almost all of their posts are student-generated content. If students aren't already using a dedicated hashtag for the school, start using one consistently in account posts. It'll make it easier to find and share images as more students begin using the hashtag. Most schools keep it simple, like West Virginia for example, which uses #instaWVU. Remember to give credit to the photographer by mentioning their account in your post copy.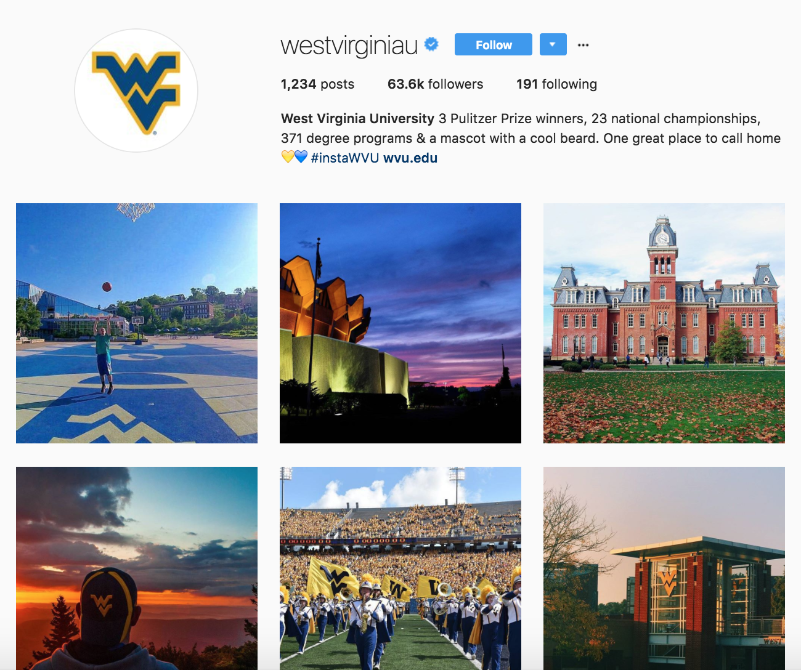 Tame the Twitter Firehose to Connect with Incoming Students
Twitter can be tough due to its constant flow of messaging. When untamed it becomes virtually unmanageable, but higher education programs can easily connect with incoming students by creating organized "lists." By searching hashtags and keywords related to your school, as well as class hashtags like #WVU17, social media community managers can add Twitter users to groups to make it easy to interact with them. Simple actions like favorites and retweets show students the school is listening proactively.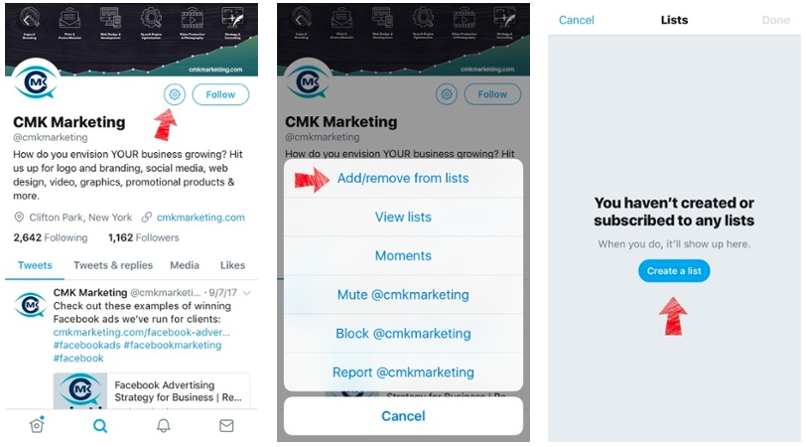 Every school should maintain a Twitter account, but how granular you want to get with separate accounts depends on your social media goals. Higher education marketers can think of Twitter like a customer service system. When universities use a strategy with separate accounts for different programs, sports teams, even the school mascot, people can reach out to the account of their choice rather than bombarding the main university account with questions specific to departments. Some teachers even use dedicated accounts to share relevant course links and answer student questions.
Give, Give, Give with Pinterest Content
With over 70 million monthly active users and more than 2 billion monthly searches, Pinterest holds its own among the other social networks. But in the same breath, it's often overlooked in social media marketing plans for higher education organizations. With school in session, think about how you can bring value to students in a way that helps or inspires them without being promotional about the school or events. Time-sensitive posts don't do well on Pinterest, but thanks to the viral nature of the "pin it" feature, well-crafted content can spread fast organically sending massive amounts of free traffic to your website.
Chamberlain University's College of Nursing has a killer Pinterest page. They have well-curated boards like "Hairstyles for Nurses," "Apps for Nurses," and "Nursing Graduation Cap Ideas," as well as "Campus Life" boards featuring pictures of real nursing students. You'll notice these are topics that help. Chamberlain isn't asking them to sign up for anything, there's no significant calls-to-action, it's valuable content compiled to help nurses navigate nursing school. It's just one more way to humanize your program and create brand loyalists for life.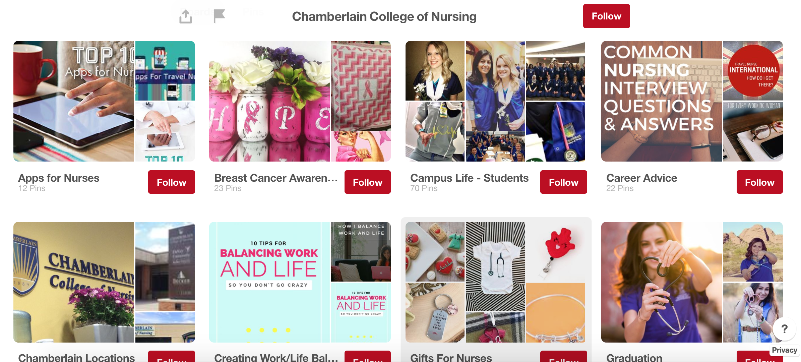 Learn To Love Facebook
Last but not least: Facebook. The robust platform has myriad of ways for higher education to connect with students, promote events and achievements, and maintain relationships with alumni for donations and continued support. The Facebook Live feature rolled out to the majority of users back in the Spring, so this will be the first full school year where universities have the opportunity to broadcast events, campus activities, sports, or even create a mini video series that airs the same time each week. The opportunities are endless, and marketers are finding that live videos get more reach than any other post format. Plus, the video lives on after the broadcast ends and it can be repurposed across other networks, embedded into blog posts, or added to YouTube. Pretty slick, right?!
Facebook's wealth of data and intense targeting gives higher ed programs tons of opportunities to get important messaging in front of the right people. Schools looking to recruit could run Facebook ads for 17 and 18-year-old high school students who have shown interest in competing universities. Similarly, higher education can use Facebook ads as part of their marketing campaigns focused on collecting donations by uploading a list of alumni and targeting people who attended a specific school. Supportive alumni may be more responsive to getting information about donating through an online link versus a phone call at dinner time. Something to think about as your craft your digital strategies!
Moving Forward...
Higher education programs all over the country are finding success with social media marketing. Taking control of your online image is so critical for universities when students and members of the school community are spending hours of their day within these platforms. They expect you to be there and they expect to be able to interact and share their love for the school. Focus on humanizing and matching the vibe and voice of your university across all owned accounts, and remember there's a campus full of mini-marketers ready and willing to support your online growth.
The Email EVERY Education Marketer Needs To Sign Up For...
If you found value in this blog post, we think you'll also like our monthly education marketing newsletter. They're packed with value and will help keep you up to date with how the latest social media trends impact digital strategy for EdTech and Higher Education organizations.
This May Be Helpful...
Does your social media marketing strategy need a little guidance? We're helping organizations transform their digital marketing efforts through personalized 2 hour, 1-on-1 trainings. These trainings include:
Audit of your Facebook, Instagram, & Snapchat accounts
Maximizing your social media marketing organically
Customized strategy for running ads that convert
Copies of presentation & notes to review on your own
Actionable tips to start winning on social media
Learn more through the button below and see if it's the right fit for you & your team!