Using Social Media Marketing to Stand Out Before, During, & After Your Next Education Technology Conference
Are you looking to get more leads at your next education conference?
Attending conferences as an education technology organization is all about making face-to-face connections with the people (ideally the decision makers) who could potentially find value in the products or services you offer. However, with most conferences lasting only a couple of days – and some even hours – how can you most effectively attract and engage with the right people, especially when the conference draws a big crowd?
Maintain the goal of creating new relationships and strengthening existing ones with face-to-face connections, but a large part of your marketing strategy should focus on using the power of social media to stand out in the crowd before, during, and after the event. Conferences aren't cheap! You're likely spending thousands of dollars to showcase your brand at the event, so make sure you're pulling out every ounce of value that you can!
Whether you're marketing to schools, colleges, teachers, or students, consider implementing the following social media marketing strategies to maximize your return on attending education technology conferences.
Generate Buzz Before the Event
Once you've locked in a spot as an EdTech vendor at an upcoming conference, don't wait until you're standing at your booth to start attracting eyeballs. The conference itself will market more and more aggressively as the event date approaches, and most attendees will purchase tickets weeks, if not months, ahead of time. Every event now uses a dedicated hashtag to focus the conversations happening about the conference on social media, which is lead-generating GOLD for vendors like you. Use the strategies below to take advantage of this pre-conference social chatter.
Use Twitter Search and Custom Lists to Engage Pre-Event
Create a custom hashtag stream in Tweetdeck or Hootsuite to see everyone using the conferences dedicated hashtag on social media. People are likely sharing their excitement or talking about the event, and they may even be talking about you if there's an easily accessible vendors list on the event website. Spend time looking at user profiles, company websites, and recent tweets from people engaging with the hashtag. For example, if you're trying to sell educational products or services to teachers and higher education faculty, you'll likely be able to tell from their Twitter profile if they fit your target market. If they do, add them to a Twitter List so you can continue to engage with them leading up to the event. Don't be afraid to send likely buyers a tweet from your company profile expressing your excitement for the event. Something like – "@[their username] We're really looking forward to #[conferencehashtag]! Stop by and chat with us at our booth!" – could help build some affinity prior to attendees arriving at the conference. Sometimes the event will create a public list of Twitter users already attending the event, so keep an eye out for that to make your life even easier.
Create a Dedicated Landing Page on Your Website
This is a critical strategy most vendors miss out on. For each education technology event you attend, create a unique page on your website to speak directly to the people attending that event. Make sure it's a nice, clean-looking URL… Something like – "yourdomain.com/eventname" – is perfect. If you can't easily say it to someone, it's too long. This page should feature a brief bio about your organization, links to the products or services you're promoting at the trade show, opportunities to connect with your social media accounts, and a Call-to-Action for attendees to opt-in for something of value in exchange for their email address.
After you build and publish the landing page, be sure to add the appropriate retargeting pixels and tracking information to create saved, retargetable audiences for your social media advertising efforts after the event. You can include links to this page in hashtagged tweets leading up to the conference, incorporate it into business cards or marketing materials, and direct booth visitors to learn more about your education products and services.
Schedule Posts Ahead of Time
Trade shows and vendor areas of conferences can be incredibly hectic, and if you're representatives are busy talking with attendees, you don't want your social channels to go silent. You should still try your best to post content in real time from the conference, but it's helpful to schedule out content in advance to keep an active presence on the most important platforms. Schedule things like key presentation times, links to your top blog content, and reminders of your table number or location at the event.
Ride The Social Wave Throughout the Event
It's easy to get swept up in the craziness of the conference floor. Try dedicating one of your representatives to be on social patrol to make things more efficient for your team. This person could be in control of monitoring event hashtags, coming up with content on the spot, and making sure everything is running smoothly. The following digital marketing strategies will help you make the most of your time at the event.
Monitor & Engage Conference Conversation
Expect the online conversation surrounding the event to heat up once things get under way, and be prepared for it when it does. Keep a laptop handy at your booth (or a social monitoring mobile app on your phone) with the real-time hashtag stream up so you can chime in or connect with relevant people. All of these tweets, grams, snaps, and posts provide an opportunity to answer questions, re-share user generated content, and take a listener's approach to social media, but it also gives vendors the chance to create shareable content to be seen by everyone viewing the hashtag. Education conferences typically display a live feed of tweets and Instagram images on a large monitor, too, adding extra visibility to your content.
Attendees are always looking for awesome content from the conference to share with their followers and establish themselves as thought-leaders. A smart strategy is to add a mobile graphic creation app like Canva to your phone to make quotes, statistics, or thoughts from speakers into extra viral images on the fly. Real-time tweets with well-designed images are far more likely to be shared than standard text tweets.
Create Video Content for Facebook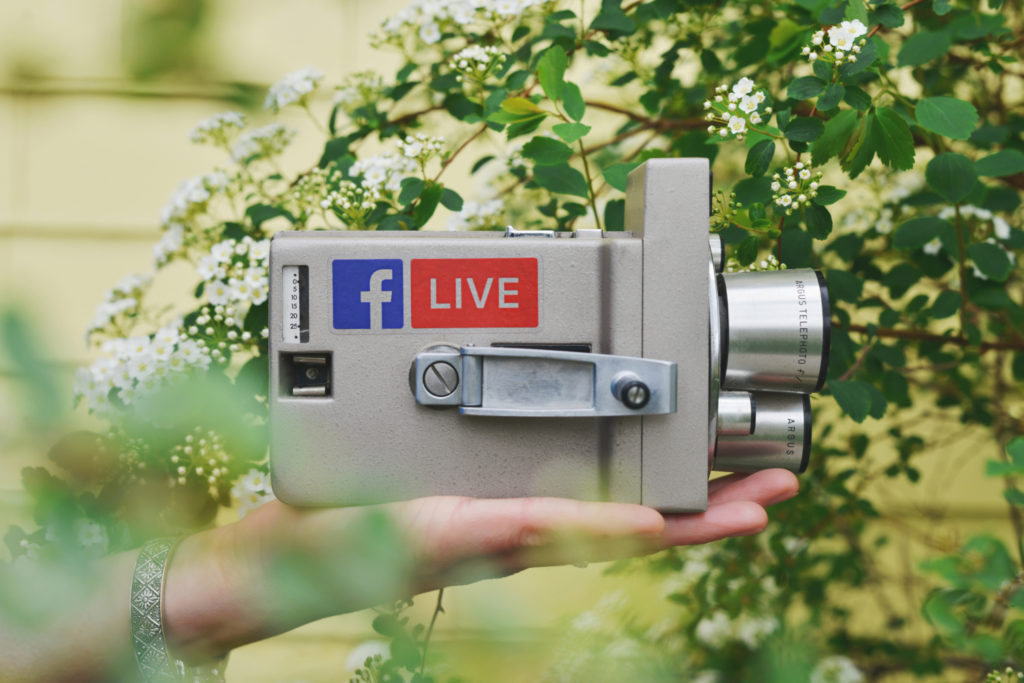 Video content is receiving the most reach and engagement across all of the major social platforms. Conferences are full of content opportunities, so use it to your advantage! Establish your organization as a credible source by broadcasting the latest trends, topics of discussion, or demonstrations of your products and services using Facebook Live Video from the event floor. The live video format gets massive organic reach, and they're saved to your account to be used in Facebook ads, embedded into blog posts, or added to your YouTube channel. Also, if you run into existing customers at the event, you could record quick, honest testimonials about their experience with your offering. Most events will have a dedicated Facebook Group, too, and you can post your videos or broadcast live from within that group. Pretty slick, right?!
Get Crafty on Snapchat with Geofilters
Ready for this? In the latest update from OmniCore, people under the age of 25 use Snapchat for 40 minutes on average every single day. If you're selling to students, Snapchat should without a doubt be part of your marketing strategy. As with all social media platforms, usage demographics for Snapchat continue to age-up. Conference attendees will be snapping, there's no ifs, ands, or buts about that. Take advantage of the level of attention the platform consumes by creating interesting overlays, called geofilters, that are meant to capture where you are or what you're doing in a snap. A designer would create the filter, and you'd set the location and radius you want Snapchat users to be able to use the overlay – ideally a super small radius focusing on the event's building or general area. Even if people aren't posting content about your brand or product specifically, it's an extra touch point and a way to engage with your audience where they're already spending their attention. This is an easy and inexpensive way to hop on the augmented reality bandwagon and stand out amongst the event crowd. More than likely, you'll be the only vendor with their own Snapchat geofilter.
Collect as Many Business Cards & Email Addresses as Possible
You shouldn't have a problem collecting business cards with email addresses from the conference attendees you speak with at your booth, but it can be helpful to supercharge your lead generating efforts by incentivizing people to either leave you their business card or opt-in with an email address in exchange for something of value. It could be as simple as a bowl at your exhibit with a sign enticing people to drop in a business card for a chance to win a free month trial of your product or service, a free 1-on-1 consultation, a discount on your offering, or something else of value. Another strategy that takes things one step further is to designate a tablet or computer as your opt-in source and offer some sort of instant gratification. You could use the same landing page your created earlier, or add a new one where people can enter their email address to instantly receive a downloadable PDF or white paper that helps solve a pain-point for potential customers. The effort you put into collecting email addresses while at the conference will pay off BIGTIME in your follow-up marketing once you're back at the office.
Turn Leads to Sales Post-Conference
When the conference ends, your marketing efforts shouldn't! The weeks following the event is the time when your team turns the relationships and leads generated into customers and brand advocates with a high lifetime value. Don't expect attendees to come find you… Connect with them on the platforms they're most active on, follow up with thoughtful emails, and wow them with personalized video messages so when it comes time to refresh their educational products and services, your EdTech company is positioned at the top of their consideration set.
Make the Social Connection
Now that you have a solid list of leads gathered from the conference, find and connect with them across social media. For most education technology companies, it makes the most sense to connect with the administrators, educators, or students you're trying to sell to on LinkedIn and Twitter. When you find their profiles, connect with them and send a quick personal message thanking them for stopping by your booth at the conference, and maybe reference something you spoke about so they know you're not just copy & pasting the same message to everyone. Now that you're familiar with using Twitter lists, make sure you're adding these warm leads to a unique list for your team to engage with to keep your business top of mind.
Follow Up by Email
Connecting across social media platforms will certainly help build on the connections made at the conference, but your email follow-ups are the real beef & potatoes of your post-conference marketing strategy. If the amount of leads generated from the conference is under 100, we recommend that you email every single one of them individually with a unique message. The main body content can be the same, but be sure to use their correct first name and try to mention something that you talked about or that will help establish a stronger connection. Don't be pushy in your opening email… Present yourself as being helpful and supportive, and if you have blog content or a gated offer that's relevant to them, pass them along without asking for anything in return. It's okay to use some automated services for creating email drip campaigns or re-engagement emails for those who haven't been opening or engaging with your emails, but be sure to maintain a personal tone. Nothing will lead to more unsubscribes than an email that starts with "Hey |*FNAME*|".
Wow Them with Personal Video Messages
If your team only generated a small number of leads, take the time to record and send personalized video messages to each one. Twitter is perfect for this. You can @mention someone in a tweet just like you normally would, but instead of typing text, you can easily record a one-take selfie-style video with a quick refresher of who you are, the EdTech company you're with, a thank you message, and ways for them to connect with you and your brand to continue the conversation. A video message made specifically for you is nearly impossible to ignore, and chances are you'll be the only company they get one from. This is a great way to move leads down your sales funnel! You could totally do this with a bigger number of leads, it just obviously requires more upfront work – WORTH IT!
Moving Forward...
Are the wheels turning yet?! As you plan out which events your EdTech company is attending as a vendor this year, take a big-picture approach to how education conferences assist your overall online marketing strategies and sales processes. Follow these strategies to maximize your return on vendor fees and convert conference attendees into loyal customers!
The Email EVERY Education Marketer Needs To Sign Up For...
If you found value in this blog post, we think you'll also like our monthly education marketing newsletter. They're packed with value and will help keep you up to date with how the latest social media trends impact digital strategy for EdTech and Higher Education organizations.
This May Be Helpful...
Does your social media marketing strategy need a little guidance? We're helping organizations transform their digital marketing efforts through personalized 2 hour, 1-on-1 trainings. These trainings include:
Audit of your Facebook, Instagram, & Snapchat accounts
Maximizing your social media marketing organically
Customized strategy for running ads that convert
Copies of presentation & notes to review on your own
Actionable tips to start winning on social media
Learn more through the button below and see if it's the right fit for you & your team!