Facebook Live: What it is, and Why Your Business Should Use it [Infographic]
Live video takes top place on most every list for what's trending in marketing in 2017. So what's all the buzz about?
To compete, Facebook recently launched Facebook Live, a live video streaming service that lets anyone broadcast live videos from their mobile device straight to their Facebook News Feed. Videos can last up to 90 minutes, and appear in News Feed and on the broadcaster's Page or profile while they are live. Facebook also recently updated the News Feed so its live videos are more likely to appear higher in News Feed when those videos are actually live, compared to after they are no longer live. Your fans can also get notified whenever you start streaming live. They simple tap the "Live Subscribe" button on the top of a live video to get notified when you or your Page goes live again.
Don't Miss: 10 Cool Ways to Use Facebook Live For Your Business 
Not surprisingly, live video streaming with Facebook Live is a massive success! Here are some of the reasons why, and more of a nudge to get you on the live video bandwagon!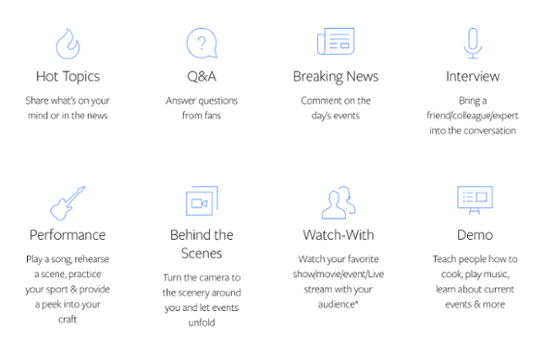 Benefits of using Facebook Live
1. Increased Engagement
People comment over 10x more on Facebook Live videos than on regular videos. Using this platform, you have a real-time connection with your viewers. As the video is shooting, you can respond to viewers' questions and comments. An added bonus? You can use individual viewer names in your response as Facebook Live displays people's names along with their comments and questions on your live dashboard!
2. Increased Reach
Content that pops and is shared on a compelling platform appeals to a wide audience. This new dashboard allows you to see how many people are watching the video at any given moment in your live broadcast. As soon as your live video session is over, you can share it, tweet it, embed it in blog posts and find other creative ways keep it alive!
3. Authentic Trust Relationships
Your audience wants authenticity. What could be more authentic and genuine than live video? There are no edits, cuts, or captions — it's all happening at that exact moment. Facebook Live lets people interact with real people – not a logo or brand. That authenticity attracts viewers.
Getting up close and personal with your target audience also builds trust. Inviting the customer into your kitchen or back office shows that you have nothing to hide and they can expect to receive a product or service exactly as advertised.
4. Greater ROI of Your Marketing Time and Money
Take a guess as to how much time and money it would take you to shoot a video tip or answer a question. As much time as you now spend writing and optimizing great marketing content? How about the time it takes you to create an impressive graphic or even, in some cases, the time it takes to share your marketing content on relevant platforms?
The answer is very likely to be that sharing via Facebook Live requires less of your time and effort than other marketing techniques. Additionally, the tool takes less of a financial bite out of your marketing budget. With Facebook Live, all you need to connect with your audience is the push of a button.
Plus, the Live Video option is built right into Facebook. No more searching for the right app.
Just open the Facebook home page of your Profile or Page, click on the "status" button at the top, and choose the Live video icon.
Just like that…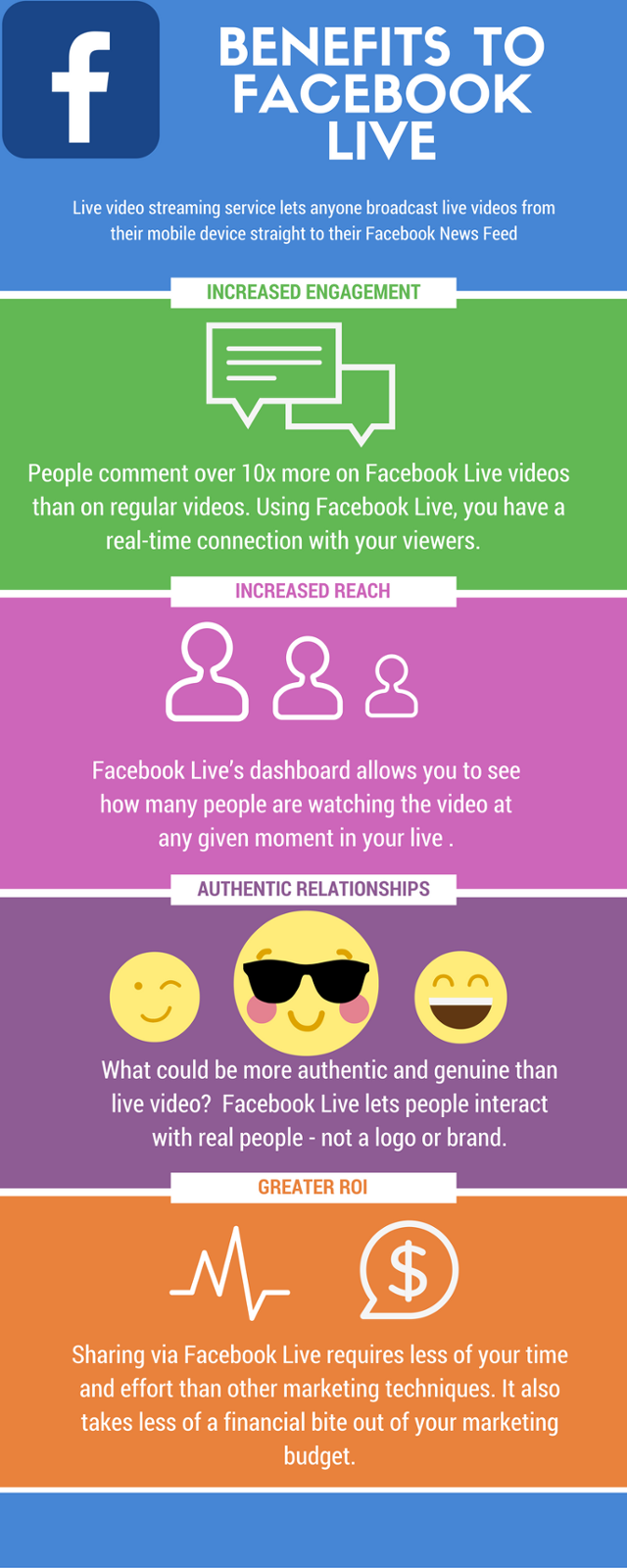 ---
Learn more about the power of Facebook marketing & advertising and see examples of winning campaigns!